Disability and Independent Living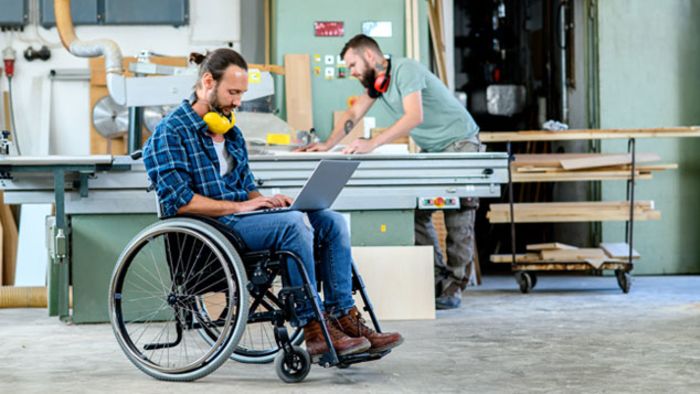 I was asked by the The Finger Lakes Independence Center to provide my views and perspectives on issues that are important to people with disabilities. So I wanted to share with you my responses to their questions.
On Sept 12 2019, I shared this on my Facebook page: "I am excited to announce that the County Office Building now has 2 charging stations for electric wheelchairs/scooters available. I had a constituent, who has mobility issues, suggest this to me as a way to help those coming to the County Office Building, and I am glad we were able to make it happen. All the credit on getting this done has to go to Seven Valley Health Coalition, especially Catherine Wilde, Access to Independence of Cortland County, Inc., and our Buildings and Grounds team. They worked together to find a cost-effective solution through grants and other resources to put these in place. Another excellent example of mobility management improvements here in Cortland. Thank you all so very much!"
"

         Tell us about work that you have been part of that involved people with disabilities.         

"
In my time on the Cortland County Legislature, I have worked with Access to Independence on moving forward the county wide housing survey. I advocated in favor of paying fair wages to individuals with disabilities instead of lower than minimum wage, and I helped get two mobility scooter charging stations installed in the County Office Building in my role as Chair of Buildings and Grounds. I am currently working to make sure the entire County Office Building is handicap accessible (even after all these years there are hallways which are not accessible).
"

         What are your views on the Access to Home Program?         

"
I support this program and believe it is a critical element to ensure individuals can stay in their homes instead of having to be institutionalized due to a lack of accessibility. We need to fully fund the program and make sure no one who needs ramps and other measures go without.
"

         What are your views on the Consumer Directed Personal Assistance Program?         

"
Programs like CDPAP that allow individuals to get the assistance they need in their homes from care providers and others is critically important. Individuals need to also be allowed to continue to select an assistant who is right for them. We need to fully investigate and take action on any reports of abuse by assistants. Finally as with everything we do need to make sure this program is fully funded.
"

         What are your views on the Visitability Tax Credit?         

"
I would continue Barbara Lifton's sponsorship and support of this bill in the Assembly. For far too long the Governor has blocked this bi-partisan legislation that has passed both sides of the Legislature. We can help homeowners update their homes to allow greater visitability and make them access to everyone. We need to keep finding ways to allow people to remain in their homes and seemingly common sense approach would be to allow them to get a tax credit on improvements for this purpose, just like we allow for green energy improvements.
"

         What are your views on the Long Term Care Ombudsman Program?         

"
We need to continue to support and encourage advocates for those in long term care. They provide a vital need to help ensure our residents in care are getting proper supports. Families are not always near enough or equipped to handle the process of advocacy so we need these trained advocates working for our most vulnerable residents. We need to keep pushing the federal government to fund and support this program.
"

         What are your views on transportation for people with disabilities in rural areas?         

"
On the Ag, Planning and Environment Committee of the Cortland County Legislature, I have worked and advocated for greater transportation options and local supported options. Our transit system provides transportation to the major locations within our community but it does not go everywhere and is not always at convenient times. I have worked with our Mobility Manager to help review the scheduling and roll out of buses. There was a move at one point to eliminate the specialist position of Mobility Manager to cut costs but I and others worked hard to secure this critical position to allow individuals a single point of contact. I also worked with a local disability rights advocate to bring 2 scooter charging stations to the County Office Building to allow people to charge their mobility scooters while in the building. We need to expand further transportation options however and make greater connections between our communities.
"

         What are your views on the small business Tax Credit for employing people with disabilities?         

"
I support providing a tax credit to small business who employ people with disabilities. Our current approach of paying those individuals lower than minimum wage is a flawed and unfair system. In May 2019, I voiced my opposition to a resolution in the Legislature brought by the JM Murray center in which the Legislature was asked to oppose the Raise the Wage Act (HR 582) and the Transformation to Competitive Employment Act (HR 873). I shared with the legislature a quote from Aaron Baier 'In 2019, people with disabilities should not be facing futures with segregation and subminimum wages. They should be allowed to reach their full potential in a competitive integrated environment. They and all workers should earn a fair day's wage for a fair day's work.' This was why I voted no and encouraged others to do the same.
"

         How will you make your campaign accessible to individuals with disabilities?         

"
I am committed to making sure our campaign is inclusive for everyone. One of my first volunteers is an ASL interpreter. Unfortunately we have not been able to have the town halls as expected where she would have played a key role but I did make sure early on that seek her out both for her support and enthusiasm but also for her skills to ensure we included everyone in the discussion. I have made information readily available across multiple social media platforms with content for all. And before we were forced to stop going door to door due to the pandemic, I would make a point to visit disabled supporters and voters to seek them out and get their input and feedback.